This is officially the fastest I've ever gotten photos up from a trip lol. This year's journey to Scotland and England was absolutely amazing, and even the below freezing temperatures and snow and ice didn't damper my spirits. I absolutely loved my first UK convention experience at
Auchinawa
. Everyone was so nice and laid back, and I got to dance at my first
Ceilidh
! I met some great people, shared some good laughs and delicious food. And Edinburgh is an amazing city to hold a convention in. 15 minute walk to the Castle/Princes Street!
With the cold we tried to do as much outdoors sightseeing in Edinburgh and Glasgow as possible, and frequently popped into shops to warm up. Inevitable shopping ensued, but I blew most of my budget within the first week at
AllSaints
on a badass leather jacket so I did a lot of Christmas shopping and window shopping lol.
London was fabulous as usual, though colder than Scotland even! I was fighting a cold halfway through the trip. The
Cosplay Ball
was enchanting like the previous years, and more relaxed for me since I didn't perform this year. Catching up with friends was really nice. Some of my favorite times were just hanging out for hours at a pub, restaurant or at home, having a cider or tea and swapping stories. I really hate that I only get to see so many fabulous people once per year *clings*.
I'll let the pictures do the rest of the talking, and you can always check my
Twitter feed
for the nightly updates I posted during the trip!
Add Comment
|
Views: 1388 |
Read more...
In 12 hours I'll be on a plane to Scotland. 3 hour lay-over in Amsterdam - just short enough that I won't be able to do anything there. I will arrive in Glasgow in the afternoon Thursday and hopefully the jet lag won't be so bad this trip. Japan/China earlier in the year screwed my internal clock up so much.
I am really looking forward to the convention -
Auchinawa
! I have three panels, a meet and greet and the costume contest to judge. Bringing
Wizard from Granado Espada
and
Sheryl Nome from Macross Frontier
because both costumes are fairly small to pack. I am ready to drink pear cider and try Haggis!
On Sunday Brian will join us in the UK and we have 5 whole days to explore Scotland. I am trying not to plan too much and just enjoy whatever adventures we'll end up on. Then we take a train (I miss trains!) to London Friday evening and have another 5 1/2 days there. The
Grand Cosplay Ball
is on that Sunday, which is one of my favorite cosplay events of the year. I made some accessories to go with the outfit I want to wear and Brian is dressing up to match me! Since this is our 3rd trip to London in as many years, we are thinking of taking a day trip somewhere, and right now it looks like the city of Bath, with it's Roman bathhouse museum. We also want to hit up old favorites like Hamsley the magical toyland store, Camden etc. Also hoping to spend more leisure time with local friends, I'm so down for some pubbing and karaoke, and seeing Harry Potter!
We come back on Thursday the 2nd of December, and I may or may not go to the Atlanta Comic Con that weekend... depends on how tired I am and how many friends are going. After that I want to take some time to prepare for 2011 and start on new costumes. We have
Ikkicon
over New Year's weekend in Austin, TX, then I jet to
SacAnime
in Sacramento, CA, the weekend after. So... a little breather lol.
Happy early Thanksgiving!
Add Comment
|
Views: 1249 |
I will be a Cosplay Guest at Anime USA in Arlington, VA, this weekend. I am bringing the following costumes to wear:
Friday - Linsner's Dawn
Saturday - Wizard
Sunday - Casual Steampunk outfit
I have a booth inside the dealer room, number 203, with a fully stocked line of my cosplay store items and photo prints. Please stop by and say hi if you have the chance. I'll be at the booth as much as I can, but I also have some Guest programming and interviews, so you should look for me around the convention at these times as well:
Friday:
Interview with Nerd Caliber- 3 PM
Opening Ceremeonies - 4 PM - Main Events
International Cosplay - Panel 10 PM Panels 2 - Jefferson

Saturday:
Interview with Ninja Legion - 12 Noon
Cosplay Presentation - 2:30 PM Panels 1 - Kennedy
Masquerade (Judge) - 4:30 PM - Main Events

I look forward to seeing many friends and meeting new ones!
Add Comment
|
Views: 1390 |
Halloween Order Rush:
Really hit me this year. Insane number of orders, all due by Halloween. I shipped so many boxes every day O_O. I was very happy to know that people trusted my cosplay products to complete their costumes :).
Halloween:
My biggest regret this year was not getting to decorate the house, since I finally have a house to decorate. There just wasn't enough time! Instead I went to Catherine's fabulous Halloween party! We had delicious food and drinks and I helped organize the beer tasting contest.
JoyceAnn took a pic of me and Cathy together
!However, on the Monday after Halloween Brian and I went to a local Halloween store and bought $500 worth of decorations for half off so we will decorate massively next year. We've talked about throwing a Halloween party as well and if we can get started planning in time I hope we can do it next year!
Cons:
I have two upcoming cons in Virginia,
Nekocon
this weekend and
Anime USA
next weekend. Again due to not enough time, we are not going to stay up in VA/MD area for the week between, in fact I am not going to Nekocon at all. Brian will be doing that show with our full line of cosplay products while I stay home and work on two pairs of XL angel wings for customers. I have no obligations at Nekocon and it seems like my time will be much better spent finishing commissions than working a booth.
Anime USA
is still a full go for both of us, I have panels to run and the costume contest to judge, plus the booth to run.
Scotland/London:
Right after Anime USA we have a whole day to regroup and repack, then it's off to Scotland as I am appearing at
Auchinawa
, an anime con in Edinburgh! I am super excited to visit Scotland and participate in a cosplay event there! My friend Jess is kindly hosting me and Brian for the week following the event, so we're trying to decide what all we want to see in Edinburgh and Glasgow. We're also heading down for London for another 6 days, to see friends, shop and attend the Grand Cosplay Ball. I have to figure out what costumes I want to bring.. I bought two new winter coats (because I couldn't decide between them lol) and plan to bundle up well for the trip.
December:
I think we're gonna make it back in time for the
Wizard World Atlanta
event, so I might throw on Scarlet Witch and Wonder Woman and check it out. After that I want to take some time for myself and work on new costumes for next year, maybe visit the Biltmore Estates, design new products, start a new book series.. basically rest up.
Add Comment
|
Views: 1230 |
I was approached by
Konsole Kingz
to appear at this awesome event that took place last night! Capcom's Fight Club party came to Atlanta where hundreds of fans gathered to preview play the new Marvel vs Capcom 3 video game. I was hired alongside 4 other great Atlanta costumers to be living artwork entertainment.
OMGbooth.com
posted some photos and I will be doing my own photo heavy report coming up soon! Thank you so much to Capcom and Konsole Kingz for 2010-10-29 having me at your event, and thank you to the fellow costumers for joining me!
From left to right: Jenny as Trish, Lindze as Morrigan, Cathy as Chun Li, me as Felicia and Riddle as X-23!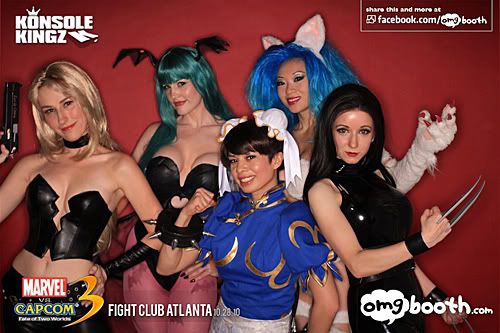 Add Comment
|
Views: 2377 |